Welcome to the Bella Blvd and The Twinery Design Team-up Week! To see all of the projects from this week, be sure to head to
The Twinery's blog
and the
Bella Blvd. blog
. There are some giveaways you won't want to miss!
The bright, happy Bella Blvd. products and twine from The Twinery are a perfect match! I made a card and coordinating bag and I can't wait to give it to my friend this week for her birthday!
I loved the cute little flags and the chipboard from Bella, so I was sure to include them. I also used some Lilac twine around the flower to hang down with the banners. Now, sometimes cards need prettier packaging than just an envelope, so I like to use glassine bags (I get mine at
Monika's shop
).
I used more Bella Blvd. paper to punch some shapes and cut a little banner, then I centered it on the folded down top, punched a few holes and tied it with Pink Sorbet twine. The bag is almost as much fun as the card!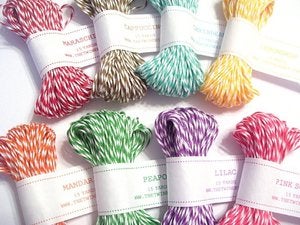 How would you like to win an awesome twine sampler? 3 Original Twine Samplers will be given away- this is the sampler pack that started my twine addiction! :) To be entered, you just have to leave a comment on the participating Twinery designers' blogs each day of the event this week. Deadline to visit and leave comments to win is 11:59 EDT, Sunday May 20th. Winners will be announced on Tuesday, May 22nd on The Twinery blog.
Bella Blvd is also offering up a prize tomorrow, so be sure to head to
their blog
to check that out as well. Good luck and thanks for visiting!